Five festive places to go this winter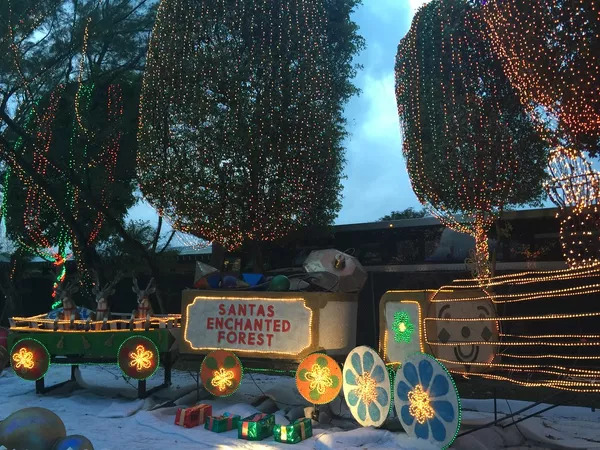 In Decemeber, when winter begins to roll in and neighborhoods start becoming colorful Christmas delights, hot chocolate or sleighing are only a few activities that may give some a taste of winter, but it's harder to get into the full holiday spirit in the sunshine state when summer is year-round. Even with sunshine rays all day, there are still plenty of winter fun-filled activities to do this winter season without the need for a winter coat to get into the Christmas spirit. Here are five places to help get into the holiday cheer this year.
One of the world's largest holiday theme parks with over one hundred rides, more than 50 food, shows, games, and much more is Santa's Enchanted Forest. Located in Miami, the seasonal park is here from November 9 all the way until January 8 which is plenty of time to get the winter season experience. The entire park is dazzled with colorful Christmas lights with never-ending activities to participate in such as pony rides and roller coasters. Santa's Enchanted Forest is a place families have to check off their winter bucket list this year.
Ice skating (Pines Ice Arena, The rink on the beach)
Despite the heat Florida has to bring, somewhere to get a feel of the winter season is to go skating at an ice skating rink. No matter the weather, there are various ice skating rinks to lace up some skates and hit the ice. Not only is ice skating an inexpensive winter activity costing 20 dollars at most, but it's something everyone can enjoy. It's a great way to get into the holiday mood while getting the chance to feel a bit of the cold most Floridians don't get to experience. Plus, as a bonus, most ice rinks have a food stand with winter treats such as hot chocolate which is a great way to warm up after an eventual skating session.
Movie theaters (Regal Movies, Fandango)
What better way to get into the spirit of the season than to kick back and relax to holiday movies with some popcorn? It doesn't matter what traditions might be celebrated because it's sure to include a Christmas classic. Many movie theaters such as Regals and Fandango are playing classics such as "How the Grinch stole Christmas" and "The Polar Express" which is a wonderful way to kick off the season. Not to mention, this is another activity that won't break the bank, whether it be with family, friends, or just oneself. Just make sure to check online for movie theaters for prices and dates for when these movies will air before heading to the theaters. For the most wonderful time of the year, spend it watching seasonal classics.
Another great way to get into the festive mood is to go to Zoo Lights Miami. With millions of  colorful lights and animal-shaped lights draped across the entire park, it is a site worth seeing with family or friends. There are many sparkling displays to see while strolling through the glistening park with many holiday treats such as cookies and milk and hot chocolate. Plus, Zoo Lights Miami also hosts various themed nights to help get into the Christmas spirit. For a fun-filled night spend it at zoo lights Miami with sights that won't disappoint.
Finally, with decorations on every corner, plenty of holiday foods, and so much more, Disney World is a place to go during the Christmas season. Walt Disney's castle is colorfully lit all over with lights, every lamp post is covered in reefs, and the resort's favorites, minnie and mickey mouse, are in their festive attire. The entire resort is almost unrecognizable with all the theme parks decked with holiday decorations and a tree the size of a skyscraper, which is a must-see. Not only that, but there are also seasonal parades, special firework shows, and longer park hours on top of hundreds of attractions. Prices are more expensive than something more casual such as ice skating or watching a movie, but it is a trip where money will not go to waste from what Disney World has to offer.
Leave a Comment