Vampire Weekend bounces back after 5 year break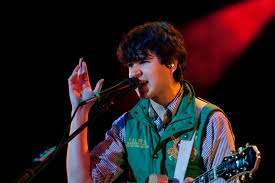 Innovative ideas have flooded the music industry, causing a spike in streaming downloads and services. Apps like Spotify, Apple Music and Pandora have taken over, replacing cassettes and even CDs, allowing the way artists release new music to evolve.
There may be no clearer example of this than the changes faced in just six years for the New York City-based indie rock band Vampire Weekend. From an interpersonal standpoint, singer Ezra Koenig recently became a father while former guitarist Rostam Batmanglij left the band to pursue a solo career. Not only has the band grown and changed in size and sound since their last album, but the way their fans listen has changed too. Their newest album, "Father of the Bride," recently released on May 3, including 18 songs, including Harmony Hall and Sunflower. Koenig stated that he would like to make it a double sided album because there are so many songs, but questions if that is something artists even do anymore.
"There was some discussion of there being a lot of songs, like 'Can you break it up into two or three parts that could help it [be] better for streaming?…I'm open to these conversations…but this is a double album. I wanted my double vinyl," Koenig was quoted in the Washington Post.
In their new album, "Father of the Bride," the band took a bit of a change from their unique style of reggae-punk-rock-alternative-indie-pop. Being their first album without their main songwriter and with influence from multiple different genres of music, such as lo-fi and R&B, it is no surprise their sound has evolved. With Koenig collaborating with artists like Steve Lacey and Danielle Haim, and with the absence of the main songwriter, the sound of their new music has lost their signature sound. Although this may be a disappointment to some fans, this change is a perfect representation of what this album is truly about–going through changes, growing up, and moving forward.
"If anything, [the album] is marked with the most painful nostalgia I ever felt in my life, which I think also just happens as you get older…" Koenig was quoted in Entertainment Weekly.
"Father of the Bride" is a time capsule of Vampire Weekend, with some songs written years ago and others in the past year. Lyrically and literally, the album artfully describes the growing pains and changes of life.