'I can be both successful and Mexican'
Oscar nominated Netflix film 'Roma' helps Mexican-Americans see themselves in new light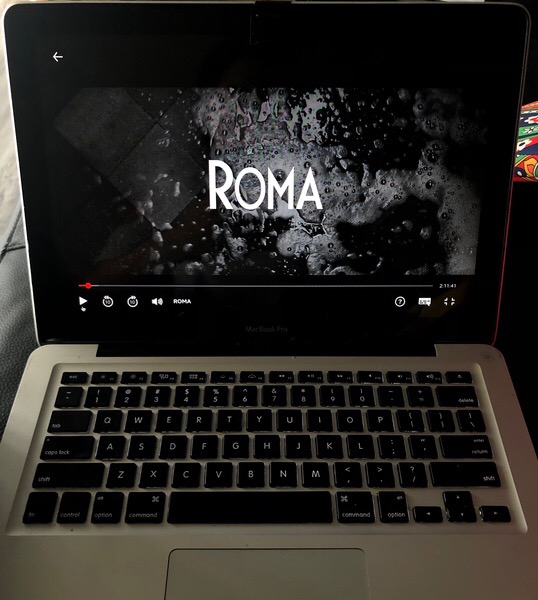 The credits roll on a clear black-and-white sky as a mundane scene of a women doing laundry unfolds. The words "Para Libo" appear on screen, a dedication. I sit in complete awe as "Roma" draws to a close. Right before my eyes was the movie I needed my entire life, a confirmation that my identity mattered.
Upon the release of inclusive movies in 2018, including "Crazy Rich Asians," "The Hate U Give," and this year's box office smash "Black Panther," I couldn't help but celebrate the overwhelming joy that the audience of these movies felt. At last, popular Hollywood movies were including the minorities that had always been incorrectly represented or just flat out ignored. All over the internet, viewers' accounts of just how much these inclusive films meant to them left me teary-eyed. Never did I think in just a couple months, I would be writing my own account of a now ten-time Oscar-nominated film that finally included my own culture.  
While as a Mexican-American, I balked at media representations depicting criminals, housekeepers, lazy and even dirty individuals, I never thought I needed a movie that included a cast from my culture until I saw one. 
These stereotypes reign true not only in the media but also in the eyes of the public who consume it. They never represented the country I knew. Even so, I didn't think a singular movie would do much to change the stereotypes and harmful ideals so commonly portrayed, so I kept the few Mexican actors such as Diego Luna and Salma Hayek, who proved my culture's beauty, close to my heart. Besides them, there is a whole community of Latino actors and actresses emerging that I could more or less feel represented by.
I didn't exactly connect with the numerous other Latino actors in many ways, their manner of speaking or accent didn't tie into my culture's norms and I couldn't identify with them as I could someone of my own culture.  Nonetheless, I still felt privileged enough for some part of my identity to be represented at all. I should be grateful not to be completely ignored.
Late November 2018, I found my moment of proper representation. Roma was aired on Netflix and upon its release, the internet exploded with its praise for the cinematic masterpiece. To the majority, the story told by director Alfonso Cuarón marks artistic achievement, but to me, it meant so much more.
The autobiographical black-and-white film is an intimate and mythic epic inspired by Cuaron's own life growing up in Mexico City in the 1970s. The film is centered on a young indigenous woman, Cleo, who works as a maid for a wealthy family. Cuaron uses both intimacy and profundity to portray the depths of ordinary life.
After weeks of reading and hearing this constant rave for the film, I was tempted to watch it for myself. I expected to enjoy the film's artistic merits. Instead I saw a story I never thought would ever reach Hollywood's radar–I saw the mistreatment of my own people, but later realized, there is a future for the merging of cultures. Above all, I watched a film featuring the very same people who are negatively portrayed in the media prove that we are so much more than the stereotypes thrust upon us.
With the arrival of the award season, I find myself filled with an indescribable pride and joy towards the movie's success. Roma took home two Golden Globes  for Best Foreign Film and Best Director. The triumph does not end there though, as the release of the 91st Oscars nominations revealed that "Roma" was among the two films nominated for the most Academy Awards.
With her nomination for actress in a leading role, Yalitza Aparicio became the first indigenous woman and second Mexican woman to have been ever recognized under the category. "Roma" was successfully showing the capabilities of the Hispanic minority and what we can achieve, and at long last, the world was listening.
Of all the emotions coursing through me, I felt especially grateful to  live in a cinematic era in which I could see myself on and off the screen. In his acceptance speech for his film's win at the Golden Globes, Cuaron said, "Cinema at its best allows us to tear down walls and builds bridges to other cultures." His film not only able to do this and will likely inspire future directors to do the same.  
Being Mexican has always been a part of my identity, shaping me into the person I am today. And though I have never felt anything but immense pride for my country, a small part of me has always hesitated when asked the inevitable "where are you from?" question.
A part of me feared people would think less of me if I answer Mexico and made me bite my tongue whenever someone made an insulting remark about  my culture. It made me stop believing in a time when my country would stop being the butt of a joke. But after seeing "Roma" and its wild success, I felt this side of me wither.
I could have never understood the bone-deep glee of being represented in the media if it weren't for this film. Alfonso Cuaron, Yalitza Aparicio and the rest of the cast and crew showed me that I can be both successful and Mexican.