Swift attempts to change 'Reputation' with new album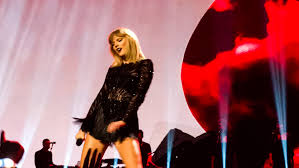 On Nov. 10, Taylor Swift dropped her much anticipated sixth studio album, "Reputation." Following Swift's disappearance from the spotlight, fans were eager to see the music Swift has been working on for the past three years. "Reputation" definitely did not disappoint. Packed with Swift-style songwriting, the album contains pop beats and upbeat rhythms accompanied by a  darker, edgier, bad-girl Swift.
The record begins with an almost EDM inspired song entitled, "…Ready For It?" This song definitely sets the tone for what is to follow. Swift sings "Baby, let the games begin," paralleling the start of the album. Following is a track composed of not just Swift, but two other artists. Accompanied by big-time rapper Future and long-time best friend Ed Sheeran, "End Game" exemplifies an unprecedented Swift. The song is threaded with rap verses served by Future and Sheeran, integrated with Swift's pop vocals.
After her career-long dispute with Kanye West and the trending of #TaylorSwiftIsOverParty on Twitter last year, Swift's reputation–as she puts it "has never been worse." Constantly accused of playing the victim, the artist did just the opposite on this album. She admits of her mistakes and tarnished reputation. "And I know I make the same mistakes every time. Bridges burn, I never learn," Swift writes.
On the contrary, Swift includes a song about ruined friendships without "playing the victim." The track, "This Is Why We Can't Have Nice Things" chronicles the betrayal of friends,  yet she makes the song upbeat and catchy instead of slowing the pace. Referring to the Kanye West and Kim Kardashian incident when Kardashian recorded Swift supposedly lying on the phone, she sings, "Friends don't try to trick you. Get you on the phone and mind-twist you."
While "Reputation" absolutely sees its fair share of synths and beats, a glimpse of slower and softer love songs are still an integral piece of the record. Swift did stray far from her past music with this album, but she does not abandon her country songwriting roots. "Call It What You Want" depicts her love for her boyfriend of over a year, Joe Alwyn. She speaks of her disappearance from the media and how she is "doing better than she ever was." Referring to Alwyn, she sings about him "loving (her) like (she) is brand new."
Perhaps, the slowest and most meaningful track on the album is "New Year's Day." The concept behind it is incredibly reflective and sincere, portraying the message of a relationship where both people are always there for each other. Once a cliche, typical song topic, Swift encaptures it it her own unique way. The narrative is about how she will be there for the New Year's midnight kiss, but she will also be there to "clean(ing) up bottles with (you) on New Year's Day."
Back in August, when Swift's lead single "Look What You Made Me Do" was released, many were taken back and surprised by this sudden change of the artist. From the lyrics to the sound, Swift was almost unrecognizable. However, "LWYMMD" definitely represents the outcast of the album.
"Reputation" sheds lights on a new and as some may say, "improved" Swift. She seems like she has finally found her fit when it comes to style. Pairing strong beats with remarkable songwriting, Swift delivers nothing but catchy, fun, heartfelt songs while attempting to mend her damaged reputation. Her sixth album definitely proves an immediate hit, and it seems like the superstar will not slow down anytime soon.