Music scene bursts with teen talent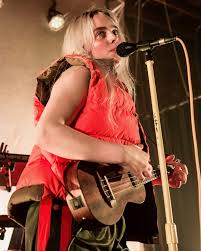 Teen artists like Jacob Sartorius, Billie Eilish and Sabrina Carpenter, all starting at young ages, are exploding onto the music scene. With society evolving and embracing new voices, it's allowing these young artists a true, early, shot at fame.
At 15 years old, most teenagers  are sophomores in high school still figuring out where they want to go in life. They're still growing and learning, trying to conceive what life is. In contrast, 15-year-old singer/songwriter Billie Eilish Pirate Baird O'Connell already has her whole life planned for her.
The singer, who goes by Billie Eilish, was practically predestined to be a pop star. At age 8, she had already perfected her vocal abilities, and by 11, Eilish had already begun writing and singing her own music.
With her brother Finneas at her side, she was able to do it all. In 2015, the siblings  released two songs on Soundcloud: "She's Broken" (stylized as "sHE'S brOKen," a play on the word, "she's broken, he's OK") and "Fingers Crossed." Billie even said in an interview with Vogue she had "no intention" for these songs.
It wasn't until 2016 when Eilish released her debut single "Ocean Eyes" that she achieved viral status; a music video followed the release. Eilish had one single at 14 years old when she got signed to Interscope Records. The young singer didn't get a huge amount of attention until the release of her debut EP, "don't smile at me," when celebrities such as Khalid, Emma Roberts, and internet stars Connor Franta and LOHANTHONY noticed the young talent.
The trend of teens starting to break out earlier began after internet star Jacob Sartorius started gaining popularity for his Vines. Sartorius started his career lip-syncing and doing covers on the popular app called Musical.ly. He started to create a huge following after he released his first single, "Sweatshirt" in 2016. The song instantly went viral and charted at #90 on the Billboard Hot 100.
Sartorius then went on to release his debut EP "The Last Text," which peaked at 32, his highest charting music to date. Following that, he began his Last Text World Tour and performed in over seven different countries. The singer and internet star has gained over 8.1 million followers on Instagram, 1.3 million followers on Twitter, and over 15.1 million Spotify streams.  
Another young pop star is Toby Randal–even big name artist such as Shawn Mendes, Alessia Cara, and Lorde all started their careers around 15-16 years old.