Coldplay's 'A Head Full of Dreams' provides feel-good jams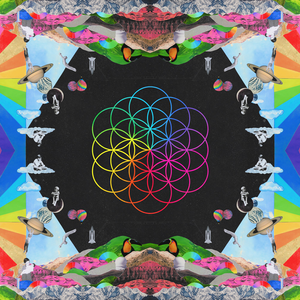 The British rock band Coldplay has always been known for their glaringly optimistic, yet simple musical style. Their newest (and possibly final) album "A Head Full of Dreams"  leans toward the latter style in stark contrast with their previous album "Ghost Stories." Released on Dec. 4, the album's sales are also being aided by the announcement that Coldplay is going to headline the "Golden Super Bowl" (Super Bowl 50). This announcement piqued people's interest in the band.
Coldplay went all out in creating this album, recruiting artists such as Beyoncé, Tove Lo, and even an excerpt of President Barack Obama singing "Amazing Grace." This yields an inspirational, uplifting dance-y record that showcases everything Coldplay is famous for and more.
The album opens with the title track "A Head Full of Dreams" that immediately lays the groundwork for the drastic reverse in direction from "Ghost Stories" in a more "Mylo Xyloto" direction. The bouncy oh's in the background and Chris Martin's optimistic and high vocals chirp at you almost immediately along with infective instrumentals.
One of the best tracks, "Hymn for the Weekend" is a complex in a way. While it is an amazing song with well-written lyrics "Oh, angels sent from up above, you know you make my world light up, when I was down, when I was hurt" and "So drink from me, drink from me, when I was so thirsty, we're on a symphony," it features Beyoncé in the background. The song is reminiscent of the last Coldplay/Beyoncé duo (from "Mylo Xyloto"), "Princess of China," but in this one Beyoncé only gets to sing backing instead of sharing lead vocals. That is a waste of resources, but the track is still amazing.
The lead single off the album "Adventure of a Lifetime" has one of the most upbeat hooks in the album. The lyrical delivery isn't the most inventive, but is more than made up for with the music. Also, top-notch, good-feeling lyrics are ever-present: "And I feel my heart beating, oh you make me feel, like I'm alive again."
Jangly pop synths and sounds continue their mark in following tracks like "Birds," "Everglow" or "Up & Up." The album has an all around bright feeling that can only lift the readers spirits, which is part of the magic around Coldplay, although it leads to some hate on account of being "sleep-inducing."
The album's return from the darker tones of Coldplay's previous work isn't just aesthetical, but a realization that their meditative and optimistic style is what has kept them in date long past their contemporaries for the last 15 years. Their last work, departing from this overall theme turned out being their worst-selling album.
If a person wanted to just feel good, even for no rhyme or reason, this album could definitely aid in that process. It is just so vibrant and full of energy that you can't help but crack a smile when listening to it. For that reason it more than earns a 9.5/10, making listeners want to scream along "Woo-hoo" with Chris Martin and company.