Tesla, Styx and Def Leppard light up BB&T center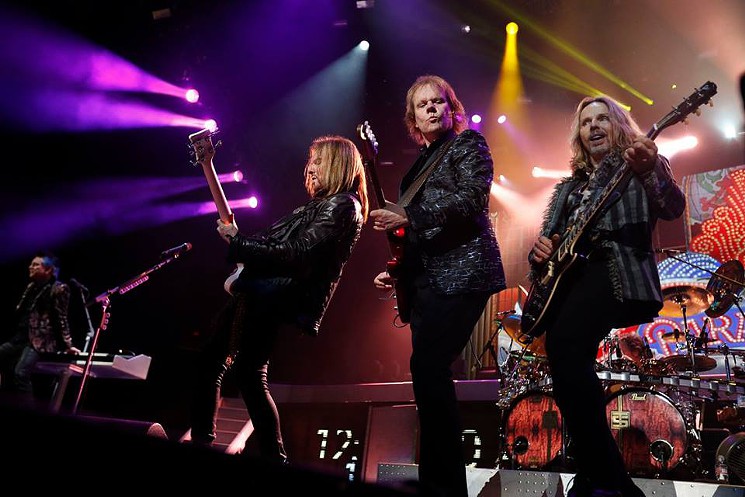 The BB&T Center lit up on Jan. 29 when rock icons Tesla, Styx and Def Leppard took the stage. For four hours, the passion and roaring of fans and the musicians set the arena ablaze for an unforgettable night.
Tesla, an 80's hair metal band with a modest 14 million record sales, opened the show. At the time, the seats were barely filled at all. That didn't stop the band from playing some of their hits such as "Love Song," "Modern Day Cowboy" and "Hang Tough." There was feeble interaction with the audience, complemented by the equally feeble audience reaction. Most of it consisted of the lead singer, Jeff Keith, commenting on how great it was to be in "Sunny South Florida."  Tesla also utilized a few covers in their set list including "Signs" by Five Man Electrical Band. Tesla brought out an electric air with their colorful guitar playing and drums, but paled in comparison with vocals and fell short to the two succeeding performers.
By the time the stage was reorganized and the next band showed up, the seats were noticeably filled as 70's pop/rock wonder, Styx, took to the stage. A room with a dull hum of excitement quickly progressed to an excited buzz enhanced by fans standing up. The fervor increased when Styx opened with one of their biggest hits, "The Grand Illusion," flanked by the "Illusion" album artwork on the screen behind them, with further numbers also including their respective album artwork.
The stage was decorated with dual stairwells set up to walk across, which aesthetically matched the rotating keyboard, both with a spacey, futuristic look. Styx blasted away at some of their most respected songs, keeping the audience cheering the whole way along. They played gems like "Lady," "Blue Collar Man (Long Nights)" and "Come Sail Away," finishing with the ever-popular "Renegade." They also threw in tributes to the late David Bowie with covers of his "Starman" and "Life on Mars." They kept the audience cheering and screaming with lasting echoes of  "Come sail away / come sail away / come sail away with me" as well as the penultimate "the renegade who had it made."
As if the concert wasn't already lively enough, it was taken to new heights with the appearance of the headlining act, even in the wake of Joe Elliott's vocal-reduced incapacitation due to sickness. Def Leppard is one the most endeared rock bands of the 80's from Sheffield, England. By the time Def Leppard was supposed to make their appearance, the seats were at capacity and the roar of the crowd could hardly be contained.
Def Leppard commenced with the song "Let's Go" from their recent self-titled release while a purple banner emblazoned with their logo on it raised up. As the instruments came to life, the banner disappeared and was replaced with three screens: two previously unused video screens and the main screen with a festive display of fake confetti followed by a lavish display of graphics fit to give an epileptic seizure.
Throughout the show, audience members were standing, clapping, stomping, yelling and cheering. Their setlist was packed with hits such as "Animal," "Rocket," "Love Bites," "Rock of Ages," Let's Get Rocked," "Armageddon It," "Bringin' On the Heartbreak" and, most notably, "Pour Some Sugar on Me!" They also had some material from their new album, such as the aforementioned opening track, as well as "Dangerous." They played their instrumental "Switch 625" along with a slew of other tracks. During the show, they requested the fans to sing (due to Elliott's ailing voice), and they obliged. Jeff Keith of Tesla came back onstage to sing the final two songs. Def Leppard's penultimate was their normal one, and staple for all of their setlists: "Photograph." If fan participation was ranked by magnitude, it would flow somewhat as follows. "Rock of Ages" got many people going, pumping their fists screaming "What do you want? / I want rock and roll!" Above that would be the thunderous roar of "Pour some sugar on me / come on fire me up / … Do you take sugar? / One lump or two!"
The absolute rage came about with the finale. Nearly every single person was standing up and screaming in unison "I gotta have your photograph!" It was as beautiful a sight as any, with such a display of passion that only a rock concert of this pedigree could deliver. Def Leppard ended the show the way they always do, by proclaiming "You remember us, and we'll remember you." Then, one of undoubtedly the best concerts of the year came to an unwelcome end.
The concert was a fine display of musicianship as well as showmanship, and is definitely one to be remembered for ages. It was a show to make you "Rock! Rock! Til' You Drop."