Book of Mormon preaches to theater lovers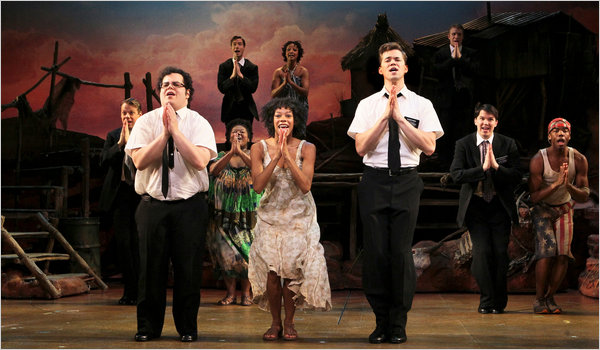 If it's possible to imagine a show with Darth Vader, Hobbits, God-hating Africans and gay Mormons, then this show will definitely be a treat.
Broadway's nine-time Tony award winning musical Book of Mormon tour cast performed in Miami on their current national tour called "Jumamosi"(which is Swahili for "Saturday") from Dec. 2 to Dec. 14. From the creators of South Park came the hilarious and satirical musical Book of Mormon, which has been performing on Broadway since 2011 and has already done one national tour. With music by Robert Lopez and written by South Park creators Trey Parker and Matt Stone, Book of Mormon has taken Broadway lovers and America by storm.
Book of Mormon is about the trip of the two missionaries, Elder Price (David Larsen) and Elder Cunningham (Cody Jamison Strand), who are sent to a small village in Uganda to try to convert its natives to the Church of Latter Day Saints of Jesus Christ. Once there, Elder Price is especially horrified to hear from the Elder in charge, Elder McKinnley (Pierce Cassedy), that they haven't been able to convert a single African to the church. From there, the audience watches as the two missionary brothers go through a hilarious and disastrous journey in trying to get the Africans to the church. Throughout the journey, the friendship of the two is tested with shocking, yet amusing, surprises along the way.
The tour cast of Book of Mormon does not disappoint the Broadway reputation. Full of positive energy and vigor, flamboyant costumes, smooth scene changes and songs that will live in your head for days, the musical is definitely a show that'll leaves audience  breathless .
Book of Mormon is for anyone above the age of fourteen and with a cynical sense of humor. It contains explicit language and sexual references throughout the show.
Book of Mormon is a must-see musical of the 21st century that has merited a critic from The New York Times to say, "The Book of Mormon achieves something like a miracle."
After exiting the theater audience members will feel as if they had just left from heaven itself.
Book of Mormon will be returning to Florida in Tampa, from Jan. 20 till Feb. 1, and in Jacksonville from Feb. 3 to Feb. 8.