Table tennis makes its club debut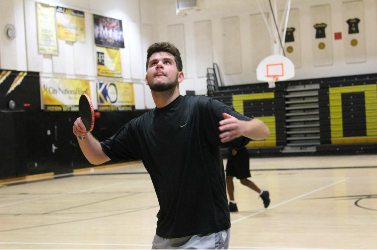 While most students sluggishly make their way back home after a long day at school, every other Wednesday, the gym is filled with upbeat music, students chatting excitedly in the bleachers and the echo of an active table tennis match.  
Also known as ping pong, the sport originated in Victorian England, and was fondly known as a "gentleman's sport," where it was played among the upper-class as an after-dinner parlor game. Now, 100 years and an Olympic team later, table tennis has found a new home as a brand new club at school.
President Noah Rosenthal, junior, hopes to turn the club into a competitive team eventually. Rosenthal decided to introduce the club when he saw the old tables in the gym that were not being used. "I've always enjoyed playing [table tennis.] I was also on the tennis team last year at the school, so I am familiar with the formation of the game," Rosenthal said.
The club has given students a space to show off their skills and to further improve them.
"[I got introduced to table tennis at] my dad's friend's house. [Since there was a table at school] and I was never a big fan of volleyball or basketball, I decided to just play table tennis instead. It's a quick game to pick up and a long one to master which I like," sophomore Hunter McCarrher said.
Students from all grades have joined the club, some as experienced players and others who do it for fun.
"I have never played table tennis before but the club is a good environment for newcomers because not only do they have all the equipment already, our sponsor Mr. [Paul] Edwards helps students [learn] how to play," freshman Noah Budhi said.
With 12 years of experience, Edwards was the natural choice to help train the students. As a former competitive table tennis player in high school, Edwards has loved the game prior to  his teaching days. He first introduced a table tennis club to a school he taught at in London after moving there from his home in Jamaica. When he came to the United States, he decided to do the same and spearheaded various table tennis clubs in other schools. He believes that the game is not only fun to play, but also beneficial to students. 
"Mainly it develops your psycho-motor skills and hand-eye coordination. It also helps burn calories when you are moving around the table. One should join table tennis because it helps you be alert; you must have psycho-motor skills during your everyday [life] and [table tennis] also helps you stay fit," Edwards said.
Edwards believes that these skills not only help one to play the game better but also to be a better student.
Since the club just started, there is only a handful of members, as many students have yet to discover the club. However, some students have found the club on their own and thoroughly enjoy hanging out. The members are already starting to think of development ideas.
"Our main plan for next year is contacting other schools and getting a competitive schedule made where we can have an official season and play other schools. Anyone's welcome whether you want to play competitively or you just want to get better at it," Rosenthal said.