Families flee to Alabama, Mississippi to escape Irma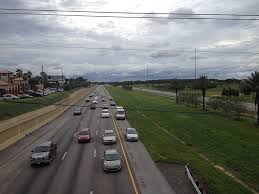 As Hurricane Irma raged off the coast of South Florida, families were left distressed as to what to do, as the area hadn't had a major hurricane since Hurricane Wilma in 2006. Families without shutters or impact glass windows trembled at the thought of a Category 5 hurricane hitting Broward County.
Sophomore Samantha Tierney's family evacuated to Jackson, Mississippi. They had no shutters on their home and were worried for the safety of themselves and their pets.
"We were going to go to New Hampshire because that's where my family is, but we went to Mississippi because it was the safest [and closest] place to go," Tierney said.
The trip took 23 hours nonstop by car with her sister, mother, step-father, dog and cat in tow. She was there for four to five days in a hotel because they had no friends or family in the area to stay with.  
When they got back to Florida, their house was actually undamaged. Only their fence bordering their home was blown down, but otherwise they would've been equally as safe here. Tierney had to endure a 23-hour direct car ride to Mississippi to escape the oncoming storm.
"It was kind of exciting because it was interesting to leave the state but tiring because sitting in a car for that long is exhausting," she said.
Sophomore Phoebe Renje, twin brother Phillip, and freshman sister Pricilla also evacuated to Jackson, Mississippi. Leaving on the Thursday prior to the storm, they had a 26-hour drive to their final destination. With 13 people in tow, Renje said the journey was long and exhausting.
"My mom and my step-dad decided to go, and every hotel in Alabama was booked. [We couldn't stay because] we were afraid that our house was going to get completely destroyed," Renje said.  
In the end, the damage was minimal to their home, similar to Tierney's experience. This was common in most families who evacuated, but damage was still rampant across South Florida.
"Traffic going up there was [really bad]: nonstop traffic jams and complete stops. We could drive, but we would have to stop every few feet because of the traffic. Sometime when we left Florida, it lightened up, and near the border it got better," Renje said.
Sophomore Liat Hakmon, and her brother, junior Ethan Hakmon evacuated with their parents to New Orleans. She and her family first stayed a night in Tampa after a four hour drive up. They then braved the almost 13 hour drive to downtown New Orleans.
"It was fun because it felt like a vacation, but I was also getting sick of watching the hurricane and not knowing exactly what was gonna happen when we came back. The outcome was just a fun experience and it kind [of] took my mind off of what was happening down here," Hakmon said.  
Hakmon agreed that traffic was a pain, but said her family had a bigger issue coming back into Florida than leaving the state.
"When we came back [from New Orleans], we were stuck in traffic for about 3 hours," Hakmon said.
Their home was also spared major damage.  
"My house was fine. We had only lost power for 2 hours while we were gone, but there were a lot of trees down in the area [otherwise]."
Irma was the second major hurricane of 2017, following Harvey, and brought massive destruction to South Florida among other places. In the end, the houses of most ordered to  evacuate were safe and sound, but the agonizing gas lines were still preferable to the possibility of losing a home and the lives of loved ones.
A previous version of this story misidentified Samantha Tierney as a freshman.