Paw Prints 2016 Scholarship Listing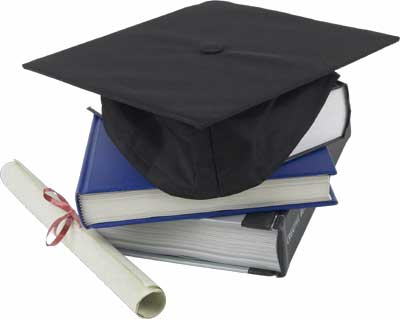 The end of the school year is fast approaching, and the seniors are bulking up their transcripts and GPAs for the last hurrah. but among these preparations is one most students find a challenge to overcome: securing financial aid. Most people know of the many advantages to private scholarships, such as financial freedom from the dreaded aftermath of student loans, but not everyone jumps at these opportunities. Some students are disillusioned or discouraged by the criteria set by some of the more well known, institutionalized scholarships and think "I can't possibly get selected out of so many others for something like that." Well fret no more, because if you've got a fun, quirky or creative side to you, and most people do, then you can earn a lot of dough to your future learning career with these strange scholarships:
"Stuck at Prom" Contest: Create unique prom wear using Duck Tape®, and then attend a school-sanctioned prom in 2016. Submit your pics to StuckAtProm.com for a chance to be selected in the Top 10, where you can win big scholarships or win one of six category prizes like Best Singles Entry or Best Theme.
Award: Varies.
Deadline: June 1, 2016.
Link: http://stuckatprom.com
Raise.me microscholarships. No requirements, but only certain schools accept it.
Award varies.
Deadlines vary by school.
Link: raise.me
AFSA Scholarship: High school senior must read a short essay and take an open book 10-question multiple choice test on it.
Prize: $20,000.
Deadline: April 6, 2016.
Link: afsascholarship.org
Town of Southwest Ranches Scholarship: Under 25 years old; Must have lived in Southwest Ranches for the last two years; 20 volunteer hours served directly to the town; Weighted 2.5 GPA; Essay.
Award: Varies.
Deadline: TBA.
Link: southwestranches.org
Create-a-Greeting Card Scholarship: To enter, you must design a holiday, get well, or birthday greeting card and submit your work to be judged. The student's photo, art, or graphics submitted must be their own original work and they must be at least 14 years of age to be eligible for this award. Can be used by high school students and graduate students.
Award: $10,000.
Deadline: Feb. 26, 2016.
Link: http://www.gallerycollection.com/greeting-cards-scholarship.htm
Vegetarian Resource Group Scholarship: For high school students who have promoted vegetarianism in their schools and communities. Judged on having shown compassion, courage, and a strong commitment to promoting a peaceful world through a vegetarian diet/lifestyle. Requires a letter of recommendation.
Award: $20,000.
Deadline: Feb. 20. 2016.
Link: http://www.vrg.org/student/scholar.htm
American Board of Funeral Service Education: Provides financial awards to students enrolled in funeral service or mortuary science programs to assist them in obtaining their professional education.
Award: $2,500.
Deadline: March 5, 2016.
Link: http://www.abfse.org/html/scholarship.html
Taco Bell's "Live Mas" Scholarship: Create and submit video about the story of your life's passion.
Award: Varies.
Deadline: none specified.
Link: https://goo.gl/cKxDPB
Discover Scholarship Award: Sweepstakes. 16 years or older. Winners randomly drawn.
Award: $2,500.
Deadline: Feb. 29, 2016.
Link: https://www.discover.com/student-loans/scholarships/award.html
Niche's "No Essay" Scholarship: For anyone looking to enroll in college within the next 12 months. Recurring scholarship.
Award: $2,000.
Next deadline: Feb. 29, 2015.
Link: https://goo.gl/CsPqjk
Tall Clubs International Student: Under 21, entering college in fall, women 5'10, men 6'2, need a local member to sponsor.
Award: $1,000.
Deadline: Feb. 15, 2016.
Link: https://goo.gl/qzOkwK
Foot Locker Scholar Athlete: Member of sports team. 3.0 GPA. US Citizen.
Award: $25,000.
Deadline: Dec. 17, 2016.
Link: https://www.footlockerscholarathletes.com/
Little People of America Scholarship: Yearly scholarship. Awarded to people with dwarfism.
Award: Varies.
Next Deadline: April 22, 2016.
Link: http://www.lpaonline.org/college-scholarship-applications
TeenDrive365 Video Challenge: Create 30-60 second video for fellow teen drivers that emphasizes teen safety while driving.
Award: $15,000.
Deadline: March 7, 2016.
Link: http://www.teendrive365inschool.com/teens/video-challenge
Sweet and Simple Scholarship: Write a short written response for the question given on the website (250) words.
Award: $1,500.
Deadline: Feb. 26, 2016.
Link: https://www.unigo.com/scholarships/our-scholarships/sweet-and-simple-scholarship
Superpower Scholarship: Must be 13 years old or older, a citizen of the U.S., write a 250-word or less response to the question: "Which superhero or villain would you want to change places with for a day and why?"
Award: $2,500.
Deadline: March 31, 2016.
Link: https://www.unigo.com/scholarships/our-scholarships/superpower-scholarship
FIRST Scholarship – Rensselaer Polytechnic Institute: The FIRST Scholarship is available to high school juniors planning to attend Rensselaer Polytechnic Institute. You must be taking college bound math and science courses to be eligible for this award. Renewable.
Award: $10,000.
Deadline: May 15, 2016.
Link: https://apply-undergrad.rpi.edu/register/FIRST
"A Voice for Animals" High School Contest: All entries from 15-18 years olds must establish a new project which addresses either the mistreatment of one animal species or one cause of animal suffering, or the preservation of one species threatened with extinction, occurring anywhere in the world, and then work on that project for at least three months.
Award: $750.
Deadline: May 25, 2016.
Link: http://www.hennet.org/contest
There are more possibilities beyond just these and they are just as fun, too. So even if you don't get a check in the mail, you will definitely have something to talk about on college campus.