Holiday Hits: Seven Layer Magic Cookie Bars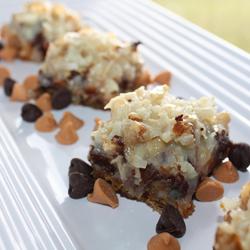 Perfect for the holidays, these cookie bars are bound to please family and friends because they're easy to make, bite-sized and delicious. They're great to "leave out for Santa" as an alternative for boring sugar cookies. Festive sprinkles and food coloring can also add a holiday theme to the cookies.
Ingredients:
1 1/2 cups graham cracker crumbs
1/2 cup butter or margarine, melted
1 (14 ounce) can Sweetened Condensed Milk
1 cup semi-sweet chocolate chips
1 cup butterscotch-flavored chips
1 1/3 cups flaked coconut
1 cup chopped nuts
2 tablespoons red and green sprinkles 
Directions:
Preheat oven to 350 degrees F for a metal pan (325 degrees F for glass baking pan). In a small bowl, combine graham cracker crumbs and butter; mix well. Press crumb mixture firmly on bottom of 13×9-inch baking pan.
Pour sweetened condensed milk evenly over crumb mixture. Layer evenly with remaining ingredients; press down firmly with fork.
Bake 25 minutes or until lightly browned. Cool. Chill if desired. Cut into bars or diamonds. Store covered at room temperature.
Original recipe yields 2 to 3 dozen bars
 Tips:
-To turn the graham crackers into crumbs, put them in a zip lock, then use a rolling pin to crush them (the more crushed the better).
-Don't forget to grease the pan before adding the ingredients so the cookies don't stick to it.
-Also, one can add mini marshmallows or swap the butterscotch flavored chips with peanut butter flavor chips if desired.
For full recipe, visit All Recipes.com