Coach K retirement leaves impact on basketball world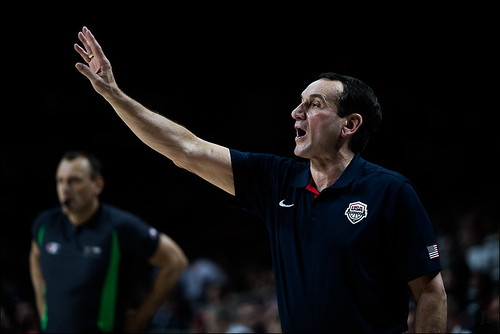 The Duke basketball program has been a dominant force in the college basketball world for more than three decades. With five national championships, 42 first round draft picks, and 15 conference championships to show for, Duke has been one of the biggest perennial powers not just in college basketball, but in all of sports. The fuel behind this spotlight and consistency for over 30 years was hiring Mike Krzyzewski, better known to the world as "Coach K" on March 18, 1980.  
Greatness was the most commonly used word by students who were asked to describe him. 
"Not only was he one of the best in college basketball history, he also helped the United States men's national team win multiple gold medals in the Olympics," junior Trevor Catronio said. 
Coach K led the U.S. Men's National Team to three gold medals in 2008, 2012, and 2016. Those teams included legendary players like LeBron James, Carmelo Anthony, Kobe Bryant, among others. 
"His impact on the game of basketball is like none other," Catronio said.
Catronio talked about how Duke was always his favorite college basketball team growing up. He first fell in love with their colors, royal blue and white. But after learning more about their program, especially their coach, he was fully invested. 
"I've always looked up to him as an idol or a role model; the fact that he's gotten Duke to the highest level and kept them there shows that he instills discipline into his players and is never satisfied with just winning," Catronio said.
Winning is what Coach K was good at, and he showed that by ending his coaching career as the all-time winningest coach in D1 men's basketball history. However, that wasn't his ultimate goal. Coach K made sure he made an impact on every single one of his players. He wanted them to be great students, fine future husbands and respectable gentlemen before basketball players. 
"Coach K made his players earn everything they got in college, nothing was handed to them," senior Daniel Jean said. 
Jean was a basketball player for the Wildcats this past season. His favorite college basketball team is North Carolina, another top program in the country and Duke's biggest rival.
"Even though I don't like Duke, you still have to respect everything that he has done not just for Duke, but for the game of basketball," Jean added.
The Duke-North Carolina rivalry is one of the biggest in sports history, and Coach K has been a part of it for a long time. His record against the Tarheels is 50-48, with his last loss ever coming against them in the 2022 Final Four on April 2. 
"We've had multiple head coaches at UNC including Dean Smith and Roy Williams, some of the best coaches of all time, but Coach K continued to keep grinding it out at Duke," Jean said.
Although Coach K is known for winning games, it's his resilience that speaks the loudest. Once you reach the top, some people become complacent with being the best, and that's how they lose their spot. With Coach K, no matter how great you are, no matter how much media attention you get or how much praise you receive, you will always work hard and earn what you get. 
"I've looked up to his method of coaching ever since I got to coaching basketball," women's basketball coach Brandie Taylor said. Taylor led the Wildcats to the second round of the playoffs where they eventually fell to the future regional champs. 
"Even as a player myself, I would look up to Coach K and what he would install into his players. And now, I'm teaching those same ideologies to my players and students of the game," Taylor said. 
Not only has Coach K instilled a legacy in college basketball that will be remembered forever, he has inspired over a generation of players and coaches in the game of basketball. Though he will be etched in the history books as being the winningest coach of all time in D1 men's basketball, it will be his influence and humble demeanor that will live on forever. 
"It's sad to see him go, but I will always cherish the memories he gave me and the countless words of wisdom he spoke to me through the television screen," Catronio said.
Leave a Comment