Boys' basketball rolls on 7-game streak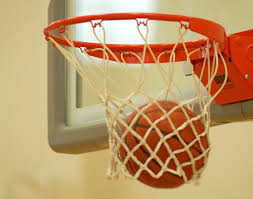 The boys' basketball team has been on a 7-game win streak, defeating teams home and away, including Pompano, South Plantation, Coconut Creek and Taravella.
Their most satisfying win was defeating rival Cypress Bay 65-57 on their home court on Dec. 7. The tickets were sold out before the game began.
"I knew the game was going to be crazy, but when I saw the line at lunch just to get tickets, I was blown away," senior Anthony Ahari said.
The bus ride on the way to the school was a rowdy ride. "Everyone blasting music getting ready to ball out it was a lot of fun. We were all focused and trying to get the nerves out before playing in front of the big crowd," sophomore Jurgen Ramos said.
Everything from the layup lines all the way to the yelling cheerleaders, the team was locked in on winning the game. Over 20 law enforcement officers were present at the game to make sure no one got too crazy.
"I was nervous but no one could tell. It was the biggest crowd I have ever seen but once the ball tipped off and I felt the ball in my hands all of that fear went away," Emanuel Turribo said.
At the end of halftime, the Wildcats were down by 10.
"We were down but definitely not out. A lot of shots I always make were not falling and the tempo was kind of crazy," center Steven Flores said.
The team managed to come back and only be down by 1 point in the 4th quarter. After 5 turnovers from the Lightning, Western scored 9 unanswered points and defeated Cypress 65-57. "[There is] No better feeling [than] defeating the rivals and on their home court," senior Nick Zimmerman said.
The crowd during the game screamed the duration of the game  and on occasion threw empty water bottles.
"I [was] excited to play that game. The atmosphere every year is surreal and it almost feels like I am in the Superbowl," Flores said.
Players reacted to the elevated crowd response.
"I felt like I was sitting in an NBA game. Everybody was yelling at the top of their lungs, and it was actually civilized; there [were] no after fights–everyone just left," senior Jordan Henderson said.
Not all players were giving in to the hype.
"Like we said earlier, we are not going to let wins allow us to lose focus, regardless of it being against a rival. Congrats, we won, but we are still not done," small forward Jakai Linwood said after the game.
They began their season on Nov. 28 against South Plantation. The team went into the game confident. "We know what we have to do. They lost a lot of good players last year, so I am pretty sure we are going to go out there and display what we have been working on," Torribo said.
Predicted to be an easy win, the team dominated with a final score of 66-24. The home game was a big confidence boost for the players.
"After seeing how we played right there, I know what we are capable of doing. We will be five times better as the season goes," Torribo said after the game.
In the following game, the Wildcats fell to the Stranahan Dragons in a hard fight, 68-79. They went into the game with excitement to continue their run and vowed to keep that mentality despite the loss.
"Honestly, I don't care about the stats. I just care about the wins and losses," sophomore guard Jurgen Ramos said.
After the game, coach Ken Kelly addressed the group: " I am proud of all of you. Stay hungry," he said.  
The team made no excuses as to why they lost but said they did not execute to their best ability.
"You have to keep in mind that we have several new players and many people who got moved up from JV to varsity like myself. We are still trying to mesh together and for a team made up of kids who have never played together we are doing pretty good," senior Nick Zimmerman said.
The Wildcats record was then 1-1. "At this point we can go either way. We can keep losing or we can take the loss and learn from it," Coach Kelly said.
In their next game against the Hollywood Hills Spartans, they clearly took Kelly's words into consideration, defeating the Spartans 70-34. The bounce back win was empowering to the team, according to Linwood.
"After you take a loss, you kind of question the team and its success, then you turn around the next game and blow out a team by over 30 points. It makes you happy and proud to be a part of it, especially with it being a away game. To defeat a team on their court feels twice as good," Linwood said.
They didn't let this win get to their head though. "Last time we blew a team out we kind of got too excited and ended up losing next game, so we just want to focus on our ultimate goal of winning districts," center Julian Cajuste said.
Their next game was another district match-up against the Piper Bengals. The team had to fight for this 57-50 win.
"I don't even know how [many] points I scored, but this game really was a hard one. They fought extremely hard and they are a really good team," Linwood said.
Those 7 points felt like 50–each time we scored, they had an answer for us, but thankfully we came out on top," Torribo said.