O. J.'s potential return to Florida doesn't have the same 'juice'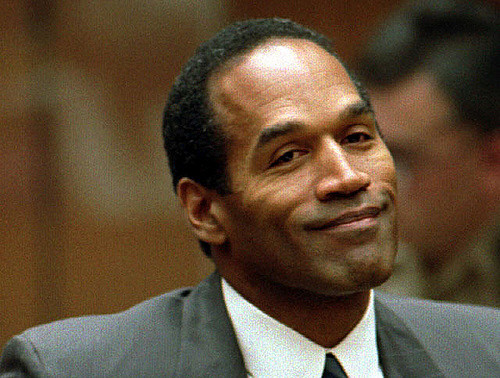 1995 held the trial of the century. Every channel featured  O. J. Simpson's face, which had previously been  associated with football or light-hearted comedies. Now that image was his profile in a courtroom. The O. J. verdict of not guilty shocked the nation and became one of the most talked about cases in history.
In 2008, Simpson was once again in court and this time found guilty for robbery and stealing sports memorabilia at the Palace Station Hotel and Casino in Las Vegas. Recently, he has been granted parole from prison and was released on Oct. 1 in the middle of the night.
According to various sources like the Tampa Bay Times, Simpson is deciding between five places to reside in Florida. Rumors have been spreading that Simpson will move to either Tampa or Miami, although Hurricane Irma has made the decision tougher. Currently, he is not allowed to leave Nevada and is living in Las Vegas, according to TIME.  But Simpson is determined to reside in Florida after he is cleared to live in the Sunshine State, as declared by his attorney, Malcolm LaVergne.
Florida does not need Simpson here. It is best if he stays in Nevada, where he will be under close watch by parole officers. Florida Attorney General Pam Bondi wants Simpson far away from the state she serves to protect.
"Our state should not become a country club for this convicted criminal," Bondi said in a letter she wrote to the Florida Department of Corrections on Sept. 29.
When a person tried for murder might possibly move to one's state, reactions vary.
Sophomore Severyn Kaczmarek didn't feel that affected by the transition, but didn't agree with Simpson being acquitted of the infamous murder.
"I'm not triggered he's coming back to Florida, but I definitely would not give him a high five if I saw him," Kaczmarek said.
English teacher Laura Arguello had a slightly differing opinion. She felt that Simpson  was entitled to do what the law allows him. She also said the 1995 Simpson  verdict was up to the jury and not her, since she wasn't there.
"He has every right to travel," she said.  "[But] I'm not going to seek him out."
Sandi D'azevedo Cimerberg, PTA mom of sophomore Dara Cimerberg, expressed stronger feelings.  
"He was so guilty, it was disgusting," she said.
Referring to the White Bronco chase before the trial, she said, "Innocent people don't run; they might get an attorney, but [they] don't run."
Cimerberg was definitely not on board for an "O. J. Florida."
The Simpson case may have caused different opinions and reactions in people, but one lingered: uneasiness. Whether people think he should be released or not, people who once idolized him became fearful of him.
Once an admired movie actor and legendary running back, he quickly turned into "a sociopath, a narcissistic liar, a murderer, a thug, a kidnapper, a robber" in the eyes of Fred Goldman (father of victim Ron Goldman), as written in the LA Times on July 23.
Although Simpson was found not guilty the first time around, he was found liable for the deaths of Goldman and Mrs. Simpson in a civil suit. He owed $25 million to the Goldman family, but to this day has not paid it.
Simpson disappointed  people who looked up to him, but the judicial system's reputation suffered as well.
Since his controversial acquittal, the average citizen believes he was guilty. This led many to see the flaws in America's justice system. When the TV show "The People v.s. O.J. Simpson" came out it became a national phenomenon. People were obsessed with an already exposed verdict, but the storyline was fascinating. Everyone was still trying to grasp how Simpson could have done something so unlike him (or so they thought).
"The fantastic #ThePeopleVsOJSimpson reminds you that the jury were complete idiots & OJ Simpson brutally murdered Ron & Nicole. The end," TV actor Lenny Jacobson tweeted.
Sophomore Kristabel Villegas saw the show as an interesting way of getting insight into a crime that she wasn't alive to witness. But even she doesn't know what to expect when the former NFL player comes down to her home state.
"I feel like the media coverage for when O.J. comes to Florida will be extensive. There will be [mostly likely be] people welcoming him and people telling him to go back to jail. Either way, I'm excited to see what happens," Villegas said.
Other celebrities took to Twitter as well to give comedic relief.
"Why are so many people upset that O. J. Simpson was granted parole? ALMOST beheading someone isn't the same as actually beheading them," comedian Jim Norton tweeted.
Social media users also joked about the strained race relations sparked by the Simpson trial, such as comedian W. Kamau Bell who tweeted: "OK then… Black folks get ready for random white folks to start conversations w/ you like "CAN YOU BELIEVE THIS OJ THING?"#OJSimpsonParole."
The case happened during a time where racial tensions were high, on the heels of the Los Angeles riots of 1992.  The riots resulted from an LAPD police officer being acquitted of using excessive force after the beating of Rodney King, which was caught on videotape and shown widely. The defense lawyers used this to their advantage, accusing white LAPD police officer Mark Fuhrman to have tampered with evidence. Critics say that the "race card" is what got Simpson out of his sticky situation.
People were outraged because of what they saw as an unfair trial for the world. Sophomore Roman Amento saw the trial as a negative influence on youth, since they are more prone to influence  and something that extended outside of the courtroom and into communities.
"I'm fearful because it might make other criminals–and not even criminals–think they can get away with it too," Amento said.  
For some, justice will never be served to Orenthal James Simpson. And for others, only excitement comes out of his release.
Now 70 years old, he has served a little over eight years at Nevada's Lovelock Correctional Facility. Simpson was released on Oct. 1, and he shouldn't be surprised to come home to a few less friends.