Super Bowl LI – We're gonna have a ball!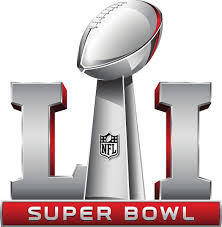 The most viewed televised event is occurring this Sunday, Feb. 5. NFL Super Bowl LI will be taking place at NRG stadium in Texas. The New England Patriots and the Atlanta Falcons will be facing each other live at 6:30 p.m. While both teams dominated their divisions, the Patriots prevailed despite being without quarterback Tom Brady for the first four games of the season. They entered the playoffs 14-2 while the Falcons, even with their full team, endedended the regular season 11-5.
Most experts are placing their bets on the Patriots. However, CBS Sports and others are confident that Atlanta can take home their first ever Lombardi trophy. Although the popular vote favors the Patriots, many think it will it be a tight game with a nail-biting final quarter.
The Patriots have been to eight Super Bowls and won four, so their experience gives them an edge. This is the Falcons' second appearance at  the Super Bowl, and they lost 34-19 to the Broncos in their first appearance at Super Bowl XXXIII.
In the matchup, the Patriots have arguably one of the best quarterbacks in the league in Brady, who has thrown for almost 4,000 yards. By comparison, Falcons quarterback Matt Ryan has had an unbelievable season, throwing for almost 5,000 yards. The Falcons are also equipped with receiver Julio Jones with 1,500 yards and 6 touchdowns.
The Patriots will manage to win due to Tom Brady's experience and their lockdown defense. Their defense has been known to give teams trouble such as the time when corner Malcolm Butler picked off Russell Wilson in Super Bowl XLIX to seal the game.The Patriots will ultimately outscore the Falcons.
Students predictions for the big game varied.  Several groups of friends were split on predicting the winner. The odds favor the Patriots; however, several students said the Falcons will prevail.
"The Falcons have the highest points per games in the NFL which will show on Sunday," junior Matthew Carpin said.
***update 2/9/17 – The Patriots prevailed, winning 34-28 in the first ever overtime***
Leave a Comment