Wicked enchants South Floridian audiences
Wicked flew into Miami once more for their Munchkinland Tour on March 14, holding performances until March 29.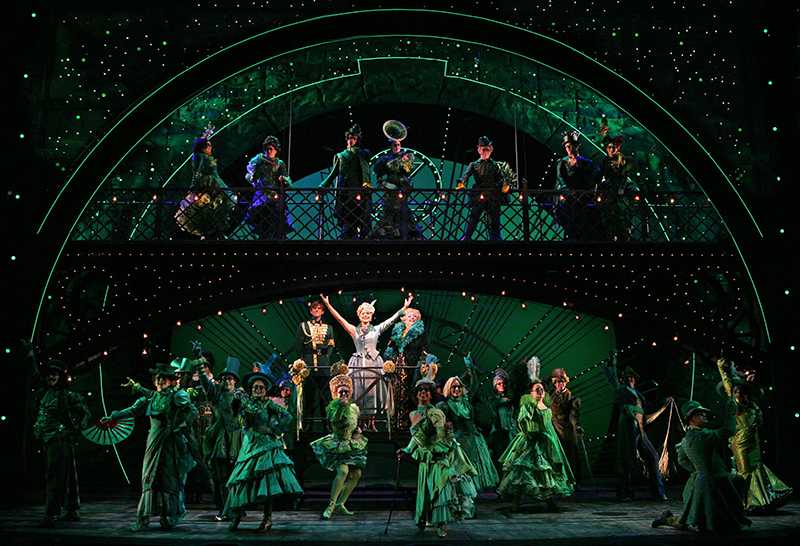 Melissa Manuel, News Editor
March 19, 2015
For over a decade, thespians and even people who don't love theater have been hearing about the spell-casting show on Broadway that has completely made audiences feel as if they are defying gravity. With over fifty major awards including a Grammy for Best Musical Show Album and three Tony's including Best Original Score and Best Costume Design, Wicked has dominated Broadway since it's opening on Oct. 30 2003. Wicked is based on the novel by Gregory Maguire and the book for the show was written by Winnie Holzman, lyrics were written by Stephen Schwartz.
Wicked flew into Miami once more for their Munchkinland Tour on March 14 and held performances until March 29. The Adrienne Arsht Center is also offering $25 tickets in a lottery for anyone who arrives at the theater two hours before the performance.
Wicked tells the story of Oz in a new light that precedes Dorothy's entrance to Oz and gives audiences the story behind the Witches of Oz—Glinda (Carrie St. Louis) and Elphaba Thropp (Alyssa Fox).
Viewers watch the tale of the green-skinned girl and the bubbly blonde meeting at the college of Shiz. The story shows how the two girls grow to become friends and all seems to be going well until Elphaba is invited to meet the Wonderful Wizard of Oz (John Davidson) at the Emerald City. The young girls leave Shiz and discover the dark truth behind the Wizard and part ways, each to follow their own destinies. Elphaba becomes the most despised and hated figure of Oz while Glinda becomes Glinda the Good.
The tour production does not disappoint the show's Broadway reputation in any shape or form with a cast whose acting goes above and beyond while the whole ensemble carried an energy and passion that filled the theater. The voices of each character were sung with striking perfection which only enhanced the stunning set design that surrounded them. With an almost steampunk appearance, each scene was filled with excruciating detail and beauty that left audience members mesmerized. The costumes themselves were dazzling. From Glinda's sparkling gown in the first scene to the Ozians' apparel during the trip to Emerald City, each costume was carefully crafted to display the importance of appearance highlighted in the show.
Wicked is more than a tale of friendship, but a story that reminds viewers to fight for what they know is right and to be yourself without being ashamed.
The show is suitable for all ages, lacking in anything too inappropriate for children and yet filled with an intensity and plot that will keep adults on the edge of their seats.
Overall, Wicked is a Broadway production that will be treasured forever and has had fans returning to Oz more than once to experience each breath taking moment again.