The Black Keys dazzle audiences
The Black Keys wow audiences from throughout South Florida.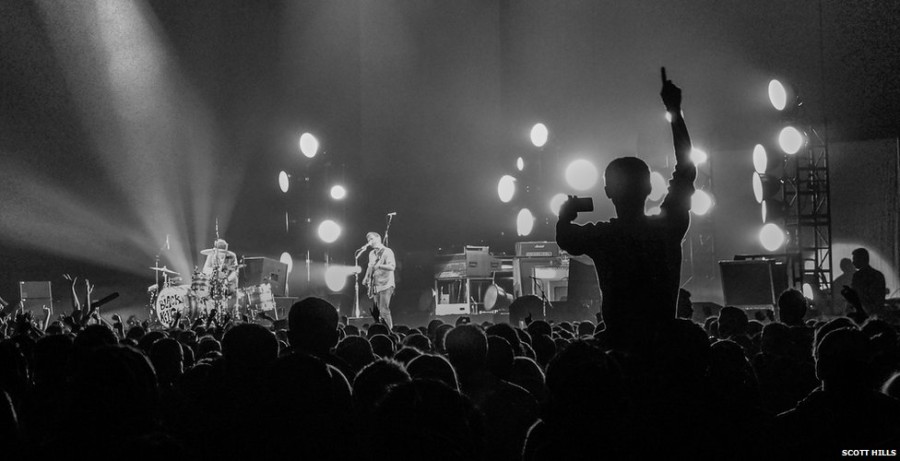 Camille Escobar, Staff Writer
February 13, 2015
The famous mainstream rock 'n' roll band, The Black Keys, toured around the United States alongside opening act St. Vincent from Sept. 5 to Dec. 21. The group performed on Dec. 15 in Sunrise at the BB&T Center.
St. Vincent opened for The Black Keys; the most memorable songs performed were "Digital Witness" and "Birth in Reverse" since the choreography was well made, and got the crowd screaming and shouting in enjoyment and excitement. The band gave a fantastic performance; it was an amazing opening act. St. Vincent successfully separated themselves from other opening bands that simply tour alongside their more famous counterparts to take up time before the big act.
The Black Keys came out to a computer-processed voice which said "breath in and breath out, focus on my voice." A 10-second countdown began and then they performed their first song, "Dead and Gone" from their El Camino album.
The band serenaded female fans with the songs "Next Girl" and "Run Right Back." Vocalist and guitarist Dan Auerbach incited a riot calling out to all the "ladies" in the audience. "Gold on the Ceiling" from El Camino got the crowd extremely stimulated, making fans sing and dance along. Unsurprisingly the band included different songs from their newest album Turn Blue, including the title song and "Weight of Love."
"Tighten Up" from Brothers got the audience hyped throughout the whole song but when Auerbach came right up to the edge of the crowd while playing guitar, everyone was screaming and cheering.
No matter what the songs were, the crowd was constantly moving and involved whether it was from their seats or right in the pit. After all their set list songs were played, the band departed the stage and fans screamed "ENCORE!"
The whole arena also turned on their cellphone flashes and waved them from side to side. The Black Keys returned to stage and performed a couple of more songs. "Little Black Submarines," from the El Camino album, was one of their chosen encore songs. Its calm, soothing vibe encouraged the audience to sing along too, but also dance when it got more upbeat.
Throughout the whole concert, Auerbach involved the audience by making fans sing in between parts of the song, and going right in front of the stage to get the audience moving while he passionately played his guitar. Auerbach didn't just stick to one guitar per performance; he constantly switched from electric to acoustic, which fascinated the fans.
Throughout the whole concert, the crowd was moving and singing along, all smiles at all times. The band pleased fans with the set list; a great mixture of both older and newer tunes.
The Black Keys will be performing at The Governors Ball NYC Music Festival in June, a great start to summer vacation.