Newsies to enchant South Floridians
Newsies will soon grace South Florida theaters.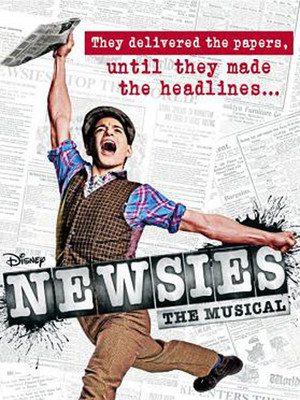 Melissa Manuel, Staff Writer
January 29, 2015
Broadway's smash-hit musical Newsies "carries the banner" across America on its first national tour and makes its way to South Florida. From Feb. 3 to Feb. 8, the Tony Award-winning musical will be performing in Miami at the Adrienne Arsht Center for Performing Arts.
This new Disney musical is based off the original film from 1992, which was centered around the true story of the New York City Newsboy Strike of 1899, and tells the story of the rebellious newsboy Jack Kelly (Dan Deluca). Kelly has dreams of becoming an artist in the quiet city of Santa Fe, away from the hustle of the industrialized NYC. When king of the press and owner of the New York World, Joseph Pulitzer (Steve Blanchard), raises the price of the papers for the newsboys, Kelly leads the "newsies" in a rebellion with hopes of stopping him. With help from dazzling female reporter Katherine Plumber (Stephanie Styles), all of New York City soon recognizes the power of the "little man."
Newsies has an original soundtrack written by composer of well-known Disney flicks Aladdin and Pocahontas Alan Menken and lyrics by Tony award winner Jack Feldmen, with award-winning choreography by Christopher Gatelli. Newsies quickly became a highly praised musical The New York Times calls "a musical worth singing about!"
The show is perfect for Disney lovers and anyone who's in the mood for a good old-fashioned tale of teenage rebellion. People of all ages will adore the show and it's perfect to see with family. More than just a compelling story of standing up for what is right and remaining true to one's self, Newsies is full of good humor, spectacular dance routines, vocals and plenty of charming young men.
Tickets for Newsies can be bought at the theater, by phone or online at the Adrienne Arsht Center website. Prices start from $35 to $125, but there is a special lottery done at the theater before each performance where $30 tickets can be won.
Newsies was a show originally scheduled to be performed on Broadway for a short two weeks, but managed to last for two years and have a nationwide tour. This is just one example of how Newsies is a show worth seeing.