Final Caffeinated Creativity event reveals hidden talents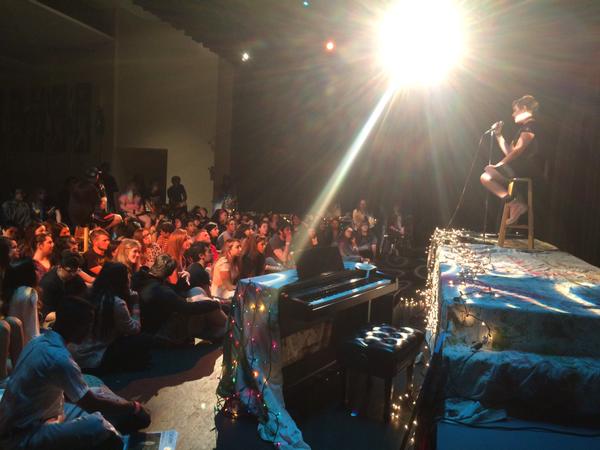 Oliver Bronstein, Staff Writer
June 1, 2015
On May 21 at 7 p.m. in the auditorium, Drama Club held its final Caffeinated Creativity event of the year to raise money and have a last hurrah. Participants performed for a crowd of roughly 100 people.
The event's host was originally senior Grant Brecheisen, but junior Bruno Enciso filled in as a last-second replacement. Enciso introduced each act by stating the performer's name and one fun fact about them.
Acts included guitar, piano, poetry and comedy skits, as well as singing such as a capella groups and even a quartet. This coffeehouse event was different from the last in that it was moved from theater teacher Daniel Bonnett's classroom to the auditorium.
"[Students] sat on stage, so it was an awesome idea because I think the ambiance of coffeehouse would have been lost if it was just performers onstage and then people in the audience," Enciso said.
According to junior Melody Zapata, who helped plan the event, it was moved to the auditorium in order to reap the benefits of using the sound system.
Originally scheduled for April 29, the coffeehouse event was moved to May 21 due to a schedule conflict with a senior event. Even after the date change, the show still drew a crowd of roughly 100 students.
With each audience member paying $7 for entry, the night was successful as a fundraiser. Attendees got unlimited coffee and pastries included in the entry fee.
"It's always weird for me because, from auditioning people, I know what they're going to [perform], so there's no surprise element for me. Seeing people have fun is the fun part for me," Zapata said.
While only about 20 acts were allowed for the time-span of the event, 40 students auditioned.
"I think there's a certain magic to coffeehouse, mostly because it's so encompassing of the whole school. You get every archetype and sub-culture of the school in one place together," Enciso said.
Drama Club plans at least two coffeehouse events for next year as well.