Pitch Perfect sequel tries too hard, keeps audience on toes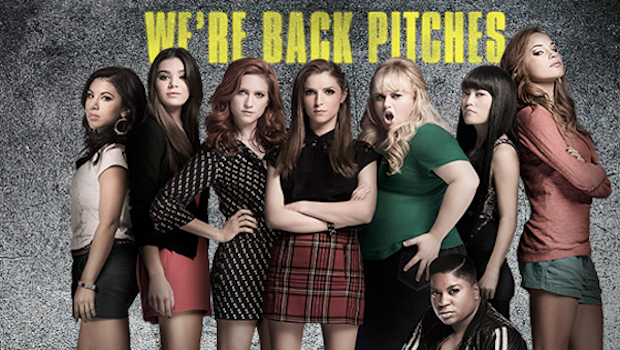 Kayla Wolfe, Staff Writer
June 1, 2015
The original Pitch Perfect was the talk of 2012 and now, Universal Pictures presents Pitch Perfect 2, a sequel to the beloved American musical comedy directed by Elizabeth Banks and written by Kay Cannon. Like its predecessor, the movie centers on Barden University and the all-female a capella singing group, the Bellas.  It includes romance, impromptu sing-offs with rival groups and plenty of trash talk along the way.
In the film, the Bellas suffer an embarrassing mishap on stage while performing for the Obama family for the President's birthday, forcing them to fight to redeem themselves. Fat Amy (Rebel Wilson) is lowered from the ceiling on silks in which she becomes hopelessly entangled. Her pants split wide open in the process, giving President and Mrs. Obama a full view of her lady-business and becomes a laughingstock, costing them their tour and title for winning the National a capella competition.
Das Sound Machine (another A capella group from Denmark) takes their place on the world tour, instantly becoming Bellas' enemy. Das Sound Machine's leader Kommissar (Birgitte Hjort Sorensen), constantly gets on Beca's (Anna Kendrick) case, causing her to get tongue-tied. Beca can't think straight when she talks back to Kommissar and instead of insulting her, she compliments her.
Emily Junk-Hardon (Hailee Steinfield), a freshman at Barden University whose dream was always be a Bella just like her mother (Katey Sagal) who was a pioneering Bella, brings a fresh face to the cast and fits into the group perfectly.
One of the best scenes finds the Bellas in an underground riff-off where they have to sing according to themes such as "Songs About Butts" or "Country Love."  The Barden Bellas compete against the Treblemakers, Das Sound Machine, the Green Bay Packers and the Tone Hangers, which includes Bumper (Adam Devine).
Unlike the first film, the sequel simply tries too hard, though the film constantly finds a way to keep the audience on their toes during the movie.  In the two-hour film, Beca spent most of her time trying to impress her boss and it's out of sync with the rest of the movie.