1989 hypnotizes teens and adults alike
December 15, 2014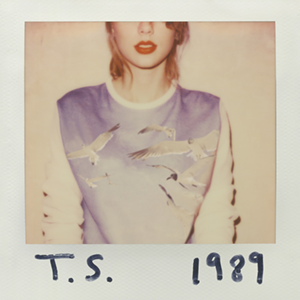 1989 is Taylor Swift's latest musical project. Her fifth studio album has an upbeat feel with more pop influences. The album includes international hit "Shake It Off," "Out Of the Woods" and "Blank Space." Top selling singles on iTunes are "Welcome to New York" and '"Blank Space."
Unlike Swift's earlier albums, 1989 has a different sound to it, similar to 80's pop. Swift started her career out as a country singer and this album brings out a different, more pop-oriented side of her. Her self-titled first studio album shows her earlier influences based off of Tennessee country lyrics and rhythms.
The deluxe version of the album includes 10 tracks, three bonus songs, and also comes with 13 Polaroid pictures for fans. The bonus songs are voice memos recorded personally on Swift's phone. Due to the popularity of her single "Blank Space," an American Express-sponsored app, called Unstaged Taylor Swift Blank Space Experience App, was created. The app allows fans to get a closer look into the mansion where the "Blank Space" music video was filmed. One can explore the rooms and learn how the video was made.
All of the songs have a cleaar message that listeners can relate to easily, for example "Welcome to New York." This track is about Swift's journey  living on her own  in New York.
"Bad Blood" is about one of Swift's closest friend (rumored to be about ex-BFF Katy Perry): "Now we got problems and I don't think we can solve them."
"Wildest Dreams" is one of the less popular songs, but has a lot of potential to blow up. "Wildest Dreams" is a more mature love song opposed to her older song "Love story." Lyrics like "You'll be the prince and I'll be the princess, It's a love story, baby, just say, 'Yes'" are very sweet and whimsical. The lyrics from "Wildest Dreams"  include phrases like "his clothes are in my room" and  "His hands are in my hair." These lyrics are obviously more mature compared to the more innocent ones from "Love Story."
Taylor Swift continues to grow musically and emotionally; 1989 is an artistic example of how Swift is evolving into a strong female artist. Swift took a risk recording this album since her earlier ones had different influences. While listening to the album, people can see how Swift has matured through her lyrics. The album was a  hit, selling over 1.2 million copies. Fans await her next contribution to the music world.