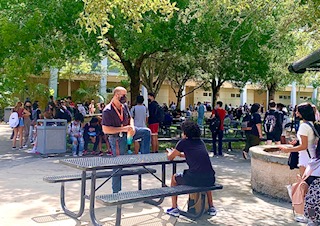 Isabella Hernandez
Students are all finally back on campus, making sleeping through Teams meetings a thing of the past. Even though they're halfway covered, students were finally seeing faces in person. Mixed feelings start to pile up as things slowly go back to normal.
"I feel like it's a big adjustment," junior Sara Mason said. "Sitting in school with a mask for eight hours a day is challenging, especially when you don't want to catch COVID."
Although students want to have their high school experience, they still want to make sure they don't get sick.
​​"I want to enjoy my year for once," junior Barbara Diaz said, "but Corona just doesn't want to leave. I wish I could go to all the games and parties without worrying about putting my family in danger." 
Diaz explained her frustration with the face masks.
"I don't think anyone really likes wearing the mask," Diaz said. "It makes my face sweat and it's itchy, but I do what I have to do. It's really not that serious."
A few people even get nervous now that they're back in the crowded halls, as they try to keep the germs away.
"I still get kinda anxious," sophomore Hannah Teluker said. "Like, I don't wanna get sick or anything."
While the upperclassmen are back, freshmen and sophomore students experience a whole new thing. They had their traditional middle school experience taken from them, and now they're thrown into high school.
"There's a lot of stuff that eighth graders [typically have] that we didn't get," sophomore Addison Baggus said. "We didn't get the graduation; we didn't get the field trip; we didn't get our dance."
Even though the underclassmen didn't have much time to prepare, some can adapt to high school easily.
"I do wish I had my middle school experience, but I'm just glad I can be in person for high school," freshman Nora Sharpio said.
Crowded football games and loud hallways were missed by plenty of students. However, some actually wish they could go back to the way quarantine was.
"Too many people in one place at one time is very gross," junior Jannellee Guido said. "Yes, seeing your peers and teachers is nice, but at the cost of your health is risky."
Guido compares the two different ways of schooling and acknowledges both of their flaws.
"Don't get me wrong, learning from home is good and bad," Guido said. "You have the chance of students skipping class, but that already happens in school."
It's no surprise the lock down has caused people to forget their social skills, but the student body adjusts together. Nervousness, anxiety, excitement and relief are shared emotions in this new school year.